Productive Home Gardening Intensive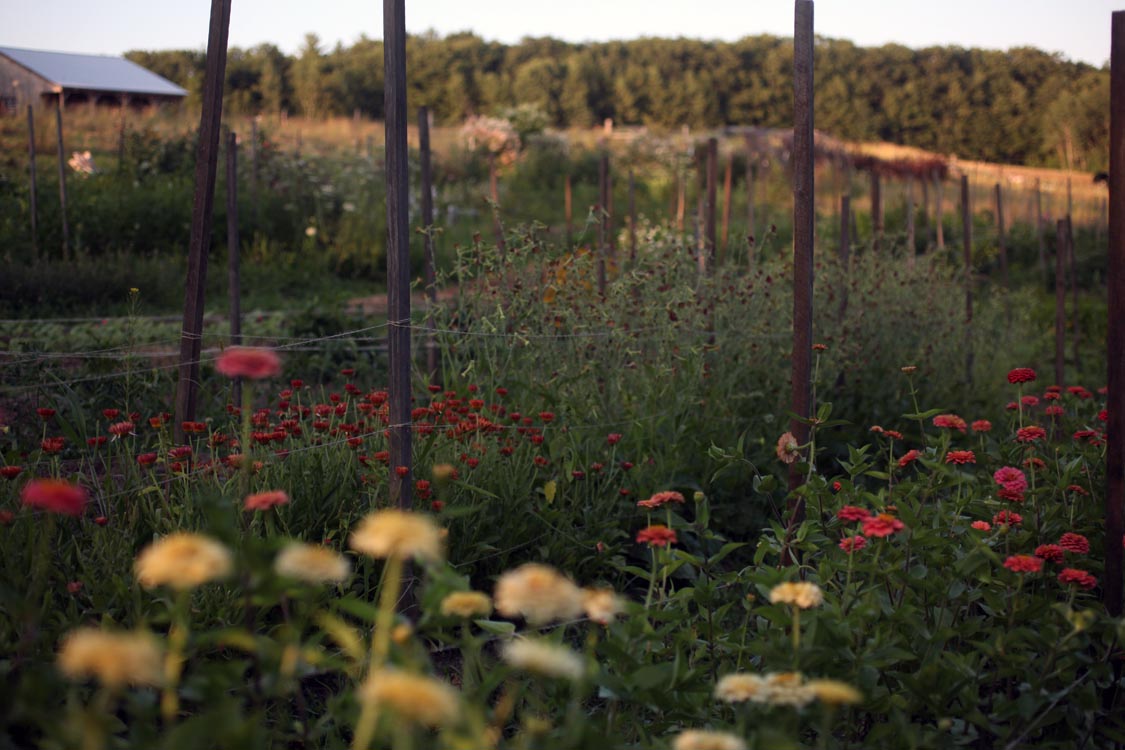 The gardening course at Worlds End is a year long journey into the fundamentals of productive home-scale growing. Each session is scheduled with your home gardening projects in mind, allowing students to learn in real time, trouble-shoot relevant issues as a group and share in the successes together. Time will be divided equally between classroom sessions, where planning and discussion will take place, and out in the field, where ideas can be demonstrated and helpful techniques can be visualized and practiced so that mastery can be pursued at home.
Productive Home Gardening Intensive Course
Worlds End Farm, Esperance NY
Autumn 2019-Autumn 2020
Instructor: Meg Paska
Instructor email: meganpaska@gmail.com
Upon completion of this course, students will have a well-rounded understanding of the fundamental facets of gardening on a home scale.
Students will be able to identify ideal locations for a garden, conduct soil tests, install a new garden, amend soils, assess disease and pests issues and form a plan for mitigating further damage, create and modify a garden plan that includes companion planting and intercropping.
Students will also learn trellising, harvesting and preservation techniques and composting basics.
Worlds End is a small-scale diversified homestead farm. Much of the work here is done on a human scale, using hand tools and natural resources that exist on farm to manage our herb, flower and vegetable gardens. Merging aspects of productive market gardening with permaculture design, the growing space on the farm is small, amounting to less than half an acre total, but is managed intensively for maximum production to minimize the stress of maintaining more space during peak growing season. This also allows for more pasture access for our flock of Icelandic sheep. Our goal is to make the land here productive for the dietary and creative needs of those who live and work here, while improving the overall health of the soil and water for the benefit of the surrounding ecosystem.
Worlds End is first and foremost a home to several designers and gardeners. Much of the land outside of active growing space is dedicated to creative endeavors and to carving out a bit of time for recreation and rest. At the crux of what we aspire to as a farm business is to create real balance between purposeful work and enjoyment. We feel that prioritizing in this way results in an experience for visitors that is approachable, fun and at times challenges the notion of what a farm ought to be. Students should arrive ready to view a living, fluid agricultural experiment that is always changing, with projects regularly being started and completed and shifted through the season. We find our gardens beautiful, but if you enjoy the more rigid aesthetic of a perfectly manicured garden, we may not have much to offer in that regard. If you enjoy a type of garden space that is as much intuitive and heartfelt in places as it is thoughtfully planned, you might find that our approach speaks to you. We hope that students will leave each class feeling as inspired by what they have learned and seen as we feel every day that we are here working and enjoying the fruits of our labor.
The five sessions of this course are timed so that students are given a practical and timely glimpse into the complete process of starting and managing a garden through the season. While the benefits of seeing the season play out in real time may seem obvious, our goal in creating a course with this structure is to balance guided, supervised work under the watchful eye of your instructor with independent work that will allow students to grow comfortable trouble-shooting and making decisions on their own.
In moments where a more experienced eye is needed, a Google Group for the class will be set up, where students can share pictures, ask the instructor questions and stay in contact with one another between classes.
Meg Paska is a farmer, instructor and author living in Upstate New York. She has owned and operated her own diversified farm since 2012, growing vegetables, herbs and cut flowers alongside dairy goats, pasture-raised chickens and honey bees. As the farmer/gardener at Worlds End, she has adopted a strategy of "quality over quantity", allowing the residents of the farm to harvest from their bountiful gardens daily without necessitating the expansion of the current cultivated footprint.
Meg was a gardening instructor at the New York Botanical Gardens from 2010-2014.
Part One: Autumn 2019
(Saturday, November 9, 2019 at 10 a.m.)
Part Two: Winter Garden Planning
(Saturday, February 1, 2020 at 10 a.m.)
Part Three: Spring 2020
(Saturday, May 2, 2020 at 10 a.m.)
Part Four: Summer 2020
(Saturday, August 1, 2020 at 10 a.m.)
Part Five: High Harvest Season
(Saturday, October 3rd, 2020 at 10 a.m.)
See more regarding the syllabus below.
Capacity: 8 students
The price is $2,500 for all sessions. $3,000 includes lodging (private room, shared baths) at Worlds End for each of the five Saturday nights following class. To inquire about a payment plan, email susan@saipua.com.
Classes take place at Worlds End Farm which is located in Esperance, NY 30 miles west of Albany. Transportation to and from the farm must be arranged by the student. Use of any/all of our onsite materials, meals at the Coyote Cafe, snacks, and coffee are all included. The farm has excellent cell phone service for most networks but NO wifi.
Tickets are final sale and non-refundable. Price includes NY state sales tax.
Yearlong Gardening Intensive
Part 1: Autumn
Join us at Worlds End as we transition from the 2019 high growing season and turn our eyes toward the year ahead. Fall is the ideal time to begin the process of planning your home garden for the coming spring. Join farmer and gardener Meg Paska as she takes you through the process of starting a productive, intensive garden to feed yourself through the year.
Part One of the course will include the following:
-Farm tour and discussion of farming philosophies
-Choosing a site location
-Soil testing, amending and fundamentals of soil science
-USDA hardiness zones and their effect on planning
-Autumn cultivation for spring planting. The nuts and bolts of how to turn a lawn into a garden plot.
-Tools and equipment and the pros and cons associated with some of the most popular methods of growing.
-Composting 101
-Q&A session
During this course we will also discuss autumn planting and we will go out into the field as a group to plant fall bulbs like garlic and narcissus.
Part 2: Winter Garden Planning
This session will be dedicated to the process of designing a map, crop plan and schedule for planting and maintaining your garden. Pour over seed catalogs before you arrive. We will use the selections from your favorite seed company to complete the first draft of your garden blueprint. The work we do in this session will not only inform the work you will do for the rest of the year, but it will also help you to maintain focus during the busiest parts of the season when it is easy to get overwhelmed.
Part Two of the course will include the following:
-Cultivar selection discussion. What are the nutritional and spatial requirements for each crop? Can you grow it successfully in your climate/conditions?
-Gathering data to pull from during the crop planning process, including suggested planting schemes and estimated yields per row foot.
-Prioritizing bed space and interplanting fundamentals
-Creating a seeding schedule
-Choosing and creating a seed starting system
-Garden map design session (materials will be provided)
-BONUS: Microgreens demo
Part 3: Spring
Months of contemplation, planning and anticipation culminate at the beginning of spring. This part of the season is all about putting your plans into action. In this session, we will participate in more hands-on learning in the form of greenhouse work, field prep and early season maintenance and care for young and vulnerable plants. We will start the day with a final review and critique of garden plans before heading out into the field for hands-on learning.
Part Three of the course will explore the following:
-Seed starting
-Potting up plants
-Spring bed prep, transplanting and seeding
-Irrigation systems
-Mulch and other soil preserving systems
-Integrated pest and disease management
-General problem solving
-Fertilization
-Succession planting
-Intercropping and companion planting
Part 4: Summer
By now, you should be enjoying some of the fruits of your labor in your home gardens. But the season is still young and there is much left to do if you'd like to benefit from continued yields in your garden into autumn. In this session, we will focus on harvest techniques and the transitioning of productive space between crops, while preparing for autumn and overwinter plantings.
Part Four of the course will explore the following:
-Summer crop maintenance and care, including trellising and disease management
-"Flipping beds", clear harvesting crops at their prime to create new space for plantings
-Harvesting and wash-pack systems and methods
-Fall crop cultivar selection
-Summer seed starting
-Compost pile maintenance
-BONUS: Quick pickling demo
Part 5: High Harvest
Arguably the most enjoyable part of the entire course, this session will focus on appreciating the abundance of the season and putting the garden to bed for the year. We will spend this day harvesting and cooking food, sharing pictures and stories from our collective experiences and making arrangements from the garden's copious assortment of cutting flowers.
Part Five of this course will explore the following:
-Harvest and safe food preservation, specifically canning tomatoes and root cellar storage
-Harvesting flowers for arranging and drying.
-Floral arranging demo by Sarah Ryhanen
-Clearing and prepping beds for winter, including soil testing and amending
-Season extension for cold weather crops
-An opulent high harvest lunch at Coyote Cafeteria
While no one book will be a complete reference for your first year garden, the following titles contain information that will be helpful during the design and planning process of this course.
How to Grow More Vegetables * than you ever thought possible on less land than you can imagine (and fruits, nuts, berries, grains and other crops), by John Jeavons, Ten Speed Press 1974
The Market Gardener, A Successful Grower's Handbook for Small Scale Farming, by Jean-Martin Fortier, New Society Publishers 2014
The New Organic Grower, A Master's Manual of Tools and Techniques for the Home and Market Gardener, by Eliot Coleman, Chelsea Green Publishing, 1989
Gaia's Garden, A Guide to Home-Scale Permaculture, by Tobey Hemenway, Chelsea Green Publishing 2006
Student will be required to bring the following:
-notebook and pencil
-eraser
-work gloves
-comfortable, closed toe shoes. Ideally waterproof, like Wellies or Muck boots
-weather appropriate outdoor clothes
-a water bottle
Recommended 1st Year Garden Specs ––
A recommended garden space, for those starting new cultivation, would be approximately 30 x 50 feet, which would allow for a total of twelve 3 ft wide garden beds with approximately 12" walking paths between. We suggest that beds be mounded to a depth of approximately 6-8 inches.